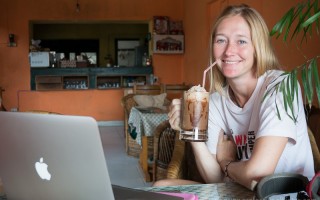 Kenny and I had just finished our 19-day trek around the Annapurna circuit.  As we sat sipping our iced coffees at a little cafe in Pokhara celebrating the completion of our trek, we contemplated if we could really leave Nepal without seeing Mount Everest.  The original plan had been to complete the Annapurna Circuit, visit the Chitwan National Park and Lumbini (the birthplace of Buddha) and then move on to Borneo.  However, we were under the spell of big mountains and feeling strong after our successful completion of the Circuit.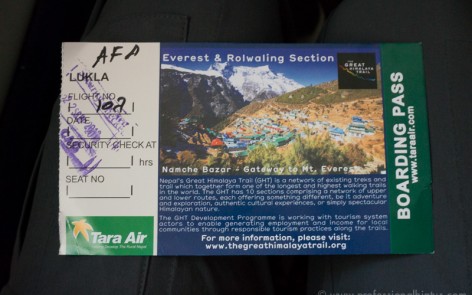 As the coffee cups approached empty, we made our decision.  The next three days were spent changing our airline tickets (no more Borneo), filing our visa extensions, busing back to Kathmandu to get our permits in order and booking flights to Lukla.  Lukla is the jumping off point for all treks and expeditions into the Everest region.  We let our excitement distract us from the fact that the Lukla airport is also known as the most dangerous airport in the world.
A special aired on The History Channel in 2010 illustrating all the reasons this airport should be respected.  I'm happy not to have seen the special before our flight.  For a rundown on the Tenzing-Hillary Airport in Lukla, click here and forward to time point 1:10:33.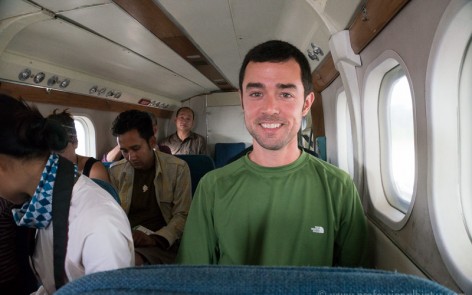 Whether or not one can fly into or out of Lukla is highly weather dependent.  Too cloudy and the pilot will not be able to see the runway to land.  Too windy and the plane may be blown off course and miss the runway completely.  Line of sight is all too important when the runway only measures 1,509 feet (460 m) in length by 66 feet (20 m) in width.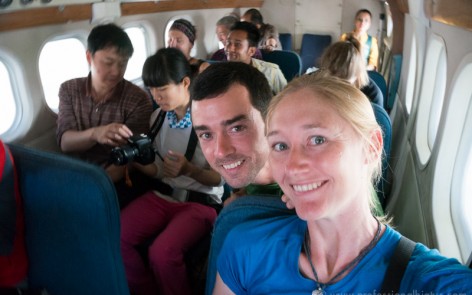 To make it even more exciting, the runway is sloped 12 degrees so that gravity can assist landing planes to stop and allows planes taking off to build speed for lift off.  With this short, little runway, not stopping in time means plowing into a rocky cliff at the runway's end and not taking off fast enough means falling off a steep cliff on the opposite end.  Oh, and there are no second chances and no emergency bailout routes.  Once a plane begins its approach, it has no other option but to land, whatever that may look like.
We boarded our 20-seat plane from Kathmandu and from our seats could see directly into the cockpit and literally look over the pilot's shoulder.  The stewardess handed out complimentary cotton balls to protect our ears from the engine noise plus one little, caramel mint.  Then, we were off.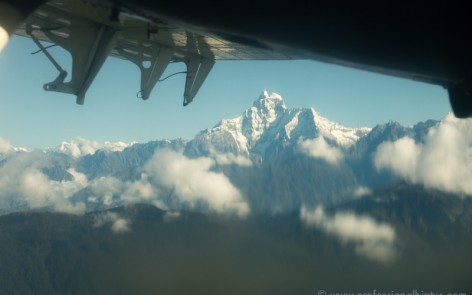 From Kathmandu, we had a clear, blue-sky morning with only light winds – a perfect day to fly.  From our view off the port side of the plane, we had a spectacular display of the Himalayan mountain range as we traveled east to Lukla.  It was breathtaking and we were more excited by the minute to reach our final destination and begin the trek.
The flight is short, only 35 minutes between Kathmandu and Lukla, so that as soon as the flight begins, it has almost reached its end.  Landing in Lukla was unlike anything we'd ever experienced.  Because the plane is so small, we actually got to watch it land from the pilot's perspective.  The view wasn't of the horizon as one would expect but instead, featured a head on view of the ground – the runway to be precise.  It was straight ahead of us and appeared for all intents and purposes like we'd plow straight into the earth.
With one hand, I steadied my video camera to document whatever might happen and with the other, I white-knuckled the seat in front of me.  Then it happened.  Touch down.  It was smooth and uneventful.  We rolled to a stop slowed successfully by the incline of the runway in combination with the plane's brakes to loud cheers raised by all the relieved and excited passengers.  We made it.  We were at the gateway to Everest and soon would begin our trek.  The thought of the return flight could be set aside for at least a couple of weeks as we set our sights towards The mountain.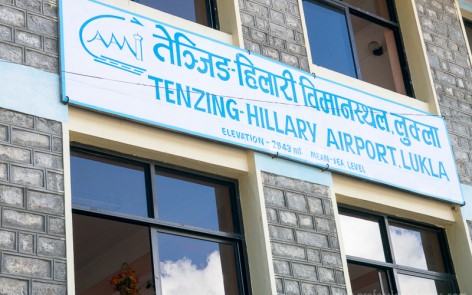 Though our flight was smooth, we learned while on our trek that another landing had not gone so well.  A helicopter coming in to the airfield four days after our arrival had gotten its tail rotor entangled in a barbed wire fence on landing and had crashed resulting in one fatality.  A horrible reminder of how precarious living, working and traveling in the Himalayas can be.
You might also like...
Share and Enjoy