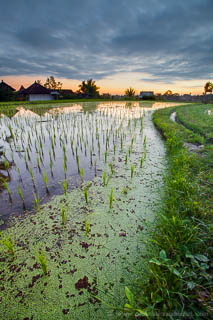 After nine months on the road, odd as it may sound, Kenny and I really had begun to crave a little more stability in our day to day living.  Following New Zealand and Australia, our entry into Asia through Singapore and peninsular Malaysia felt like one hot, sweaty, blurred mess.  Instead of enjoying each new town and experience or reveling in the new food choices and cultural diversity, we found ourselves feeling snippy, tired and uninterested.  We needed a change of pace.
Even our entry into Bali at the coastal town of Kuta was lackluster.  There were just too many people.  The beaches were crowded and there was just too many tourists in general.  This wasn't what we were hoping for at all.  How could we be in Bali and feel so disconnected from the joys of travel?
We departed from Kuta headed to the town of Ubud (known as the cultural heart of Bali) where we hoped to find our 'something different.'  We arrived early in the morning on the first bus into town to discover a procession of locals dressed in their ceremonial best headed to the Monkey Forrest Temple in the middle of town.  Balanced atop the women's heads were baskets of all sizes containing colorful offerings and smoking incense.
The road leading the way to the Monkey Forest was decorated with statue after statue of monkeys in funny poses which gave way to real monkeys in even funnier poses.  As we made our way through the streets, warm smile after warm smile welcomed us into town.
Could it be this was what we were looking for?  I felt the smile creeping back onto my face and I had the overwhelming sensation of needing to laugh.
We found our way to a small hotel where we decided to spoil ourselves a bit.  It came with breakfast, a lovely pool, beautifully appointed bungalows and stunning gardens at a whopping $20 per night.  We introduced ourselves to yoga (which quickly became a daily obsession) and found our favorite local warungs (eateries) with which to feed our hungry bodies.  Our days became filled with food, yoga, sun, sleep, conversation and laughter.
After a two week introduction to this new way of traveling, we decided to see more of Indonesia and went off to explore the island of Lombok and to visit Komodo National Park.  We had a magnificent time but our thoughts kept returning to smiling Ubud.  Our plan had been to continue traveling up the islands of Java and Sumatra but now, we both felt a strong pull to return to Ubud for the remaining month of our Indonesian visa.

Once we detached ourselves from the idea of missing out on the rest of Indonesia, it was easy to bus back to Ubud and set up a home base.  On arrival back into town, feelings of relief and joy instantly flowed back into our hearts and it was clear we made the best decision for what we needed at that moment.  We needed to put down our bags, set up a home base and relax!  This time, we moved into a home stay with a local family to enhance our appreciation of the Balinese culture.  Amazingly, the home stay was just as beautiful and comfortable as our previous hotel, but at a reduced rate.  We purchased month-long, unlimited yoga passes and dove head first into joys of arm balances, head stands and regular exercise.
We also became regulars at our favorite local warungs where we were greeted by name and our orders became ' the usual.'  A particular favorite was the Suckling Duck where we ate nearly every day.  I had a love affair with their Nasi Sate (rice accompanied by long beans, peanuts, spicy ginger sauce, potato/bean soup and of course, the satays) and Kenny's favorite was the Paha Ayam Bakar – grilled chicken with all the above mentioned sides.  With price tags of an astonishing $1.50 and $1.80 respectively; the extra splurge for a mug of hot ginger tea at $0.50 was an easy 'yes.'
As we lived in a local family's home complex, our experience in this final month was much more personal.  It was nice to see the kids head off to school in the morning and watch as daily offerings were placed about the home.  As the home stay was brand new, we also saw the start-to-finish creation of their own koi pond built from scratch as well as the hanging (and blessing) of their home stay sign above the main gate.
Something we appreciated very much about Bali was how much the Balinese truly enjoy and celebrate beauty in everything around them.  The traditional clothing is colorful and elegant and there are flowers everywhere.  The Frangipani flowers in particular are a mainstay in Balinese tradition.  They decorate the daily offerings, the home and the women's hair.  Frangipani trees grow in every home temple and garden.  Their sweet fragrance was my first and last thought each day and will forever be intimately tied to my memory of Bali.
After a month of focused attention to health, happiness and appreciation for each other, we left Bali better for having been there and re-energized to continue our journey.
You might also like...
Share and Enjoy