There are a lot of things which come to mind when recalling what it was like to travel in Argentina. Beautiful architecture, tasty wines, grilled meats, outstanding alpine vistas, tropical jungles, massive waterfalls and friendly people are just a preview – and these were only a few of the things we had the chance to experience in this monster of a country. With an area of over one million square miles (2.75 million sq km), Argentina is almost a third of the total area of the USA and covers more distance north to south than traveling from the US-Canadian to US-Mexican borders.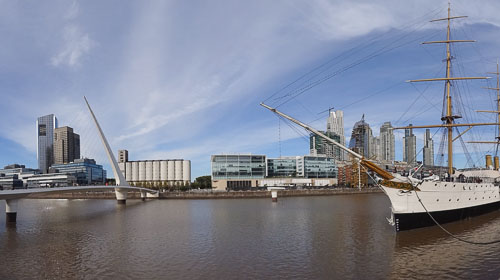 Given size alone, Argentina is a country I would recommend to experience as slowly as possible and for as much time as possible. Moving slowly here also translates to budget savings more so than in any other country we traveled in South America. Distances are vast and the next city was easily an 18-24+ hour bus ride away. As a long-distance bus typically costs around $10/person/hour, transportation expenses can easily break the budget if changing towns every few days.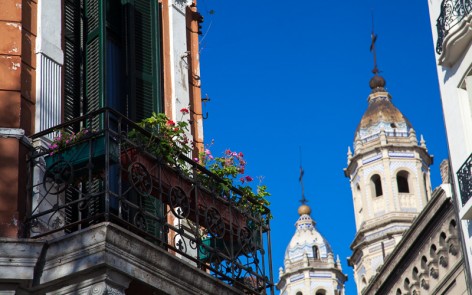 Our first glimpse into Argentina came from the town of Salta – a beautiful city in the northwestern portion of the country with majestic colonial buildings, cafe lined central squares and plenty of green space. My first impression here was one of relaxation and our days were pretty much filled with the sampling of empanadas, drinking coffee in various cafes and wandering through the colonial neighborhoods.
A "short" 18 hour bus ride from here due south delivered us to the town of Mendoza, in west-central Argentina. It is known as the wine producing region of the country. Wine was cheaper than water at restaurants and a decent bottle of wine in the grocery store was half the price of a 6-pack of soda. We spent half of a day touring several wineries in the area as well as took a side trip to an olive oil factory – a tasty bonus.
What I remember most about our time here though was the friendliness of the people. On our winery tour, the guide gave the dialog almost completely in Spanish as our group was mostly Spanish speaking. It was a great feeling to realize I could understand what he was saying so long as he spoke slowly. Following a conversation on a topic I wasn't accustomed to speaking about (i.e. travel plans, home and family) was a bit of a milestone. Little by little, we were accepted into the group and by the end of the tour, the whole van gave us a round of applause for having been able to learn a little bit about their country with them in their own language.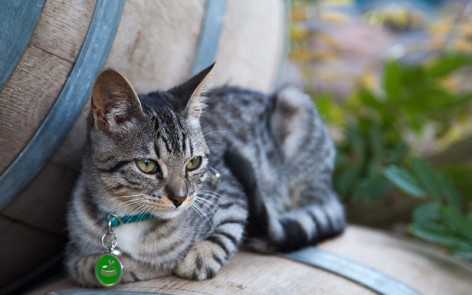 The next stop in Argentina took us to Ushuaia, often referred to as the "southernmost city in the world." Though primarily a port town and the main launching point of boats departing for Antarctica, the city itself was full of character and surrounded by a gorgeous natural landscape.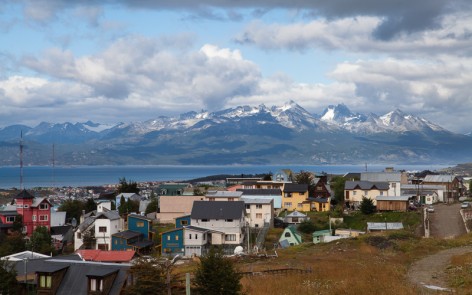 The Tierra del Fuego National Park in particular was a highlight in all of Argentina and was only a 30 minute bus ride from town. After having spent the previous several weeks in a more urban landscape, it was a breath of fresh air to be walking through forested trails interspersed with beautiful mountain and bay vistas. One of our first views of the park itself was at Encenada Bay in the Beagle Channel with its perfectly smooth water and crystal reflections of the Darwin Mountains on its surface.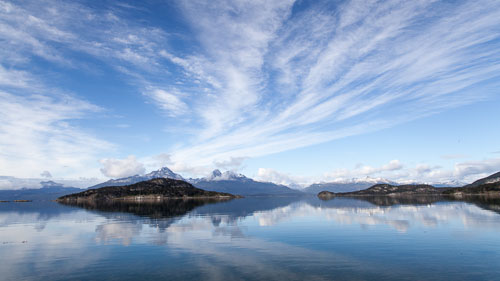 More natural wonders were in store for us later as we made our way to the tropical, northeastern most region of Argentina in Puerto Iguazu, the gateway to Iguazu Falls. This spectacular falls balances on the border between Argentina and the town of Foz Iguazu in Brazil. The falls stretch through the jungle over a distance of 1.7 miles (2.7 km) and dumps an average of 61,660 cubic feet per second into the river below. This is enough to fill 42 olympic sized swimming pools every minute.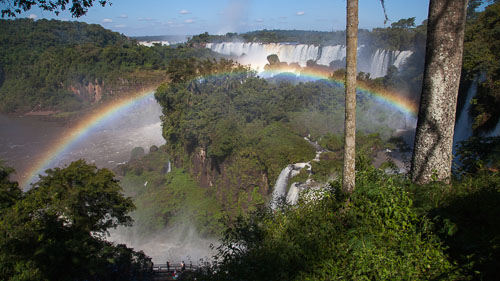 We found taking a jet boat upriver and into the spray at the foot of the falls was one of most entertaining ways to experience it. We got completely soaked as we sped into the spray spinning out in a 360 degree turn as we all screamed, arms in the air, as if riding a roller coaster. After this, it was literally all rainbows and butterflies as we continued to explore the park on foot. Our last views of the falls came from a massive area where the falls converge called the 'Garganta del Diablo' (Devil's Throat). From here, the spray would intermittently balloon upwards as if being exhaled to form a 270 degree rainbow arc.

A different, but no less impressive sort of jungle came in the form of Buenos Aires. This city was hands down my favorite throughout South America. It was full of life and activity, good food, easily navigable public transportation, beautiful architecture and an engaging history. Within the city, the best foodie find was the salchipan – a grilled sausage sandwich topped with marinated veggies and any other sort of tasty topping imaginable.
As good as they were however, nothing could compare to a traditional Argentinian asado. During our travels in Bolivia, we met and befriend an Argentinian couple. Before we parted ways, they invited us to visit them at their home in Buenos Aires when we arrived to the city. Though it was over two months since we met, we kept in touch and were able to spend a full day sharing in their phenomenal backyard asado and meeting all of their children and grandchildren. Aside from the chicken, steaks, ribs and sausages which were eaten until our stomachs nearly burst, we had the most amazing time getting to know our wonderful new friends and their family.
Oddly enough, on a trip as long as the one we planned, we just did not have enough time to visit Argentina's massive glaciers, pristine lakes or orca patrolled beaches. Though we extended our South American leg by a full month to try and fit more in, we still contemplated scrapping the whole 'round the world' idea to stay and travel more slowly within the continent. All said and done, we only spent one month on Argentine soil – too short a time to see all we had wanted but enough time to appreciate why we need to come back.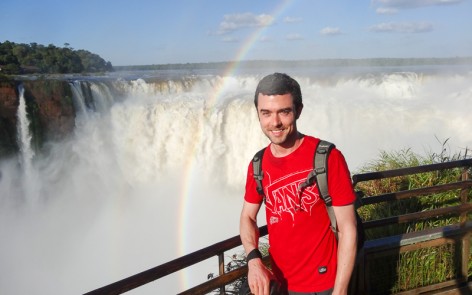 Share and Enjoy