Valparaíso, Chile, or Valpo as it is affectionately known, is a seaside city with a unique character unlike any other place we have visited.  Once one of the most important port cities in Chile for ships traveling between the Atlantic and Pacific Oceans, the opening of the Panama Canal in 1914 drastically reduced the importance of the port devastating the city's economy.
Though less so than in past years, the port still plays a major economic role in the city though its role as a cultural center may now be more important.  As a result of revitalization efforts, which began in the mid 1990's to restore the city, Valpo was declared "Chile's Cultural Capital" in 2003 by the Chilean Congress and was declared a UNESCO World Heritage Site in the same year.
We first learned about Valpo through an issue of National Geographic Traveler which featured the city as one of the top 20 places in the world to visit in 2013.  The article highlighted the stacked houses along the cliffside, the funiculars (giant trolley size elevators) and the general bohemian vibe.
Also unique to Valpo is the street art which decorates a majority of the winding passageways throughout town.  The pieces range in subject matter from cats and dogs to anime style cartoons to political commentaries.  There is even an open air museum highlighting several works of art which meanders through the streets of Cerro Bellavista called the Museo a Cielo Abierto (Open Sky Museum).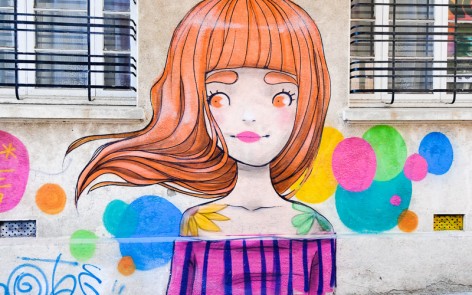 Another charming feature of the city was that it is literally, a city populated by cats.  It was impossible to turn a corner without seeing a furry little face lazily eyeing you from a chosen sunning spot.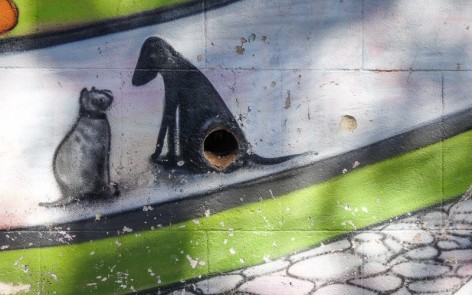 Within our hostel (Casa de Mouat) were Pititi, Piturro and Cecilia (affectionately known as Los Pititos) – three cats that lived upstairs.  Additionally, we enjoyed the sweetest little part-time resident, Kitingui, who happily kept us company through breakfast.  She was also an active participant during our late evening jam session with the hostel owners over pisco sours and wine.  The fact that she preferred Kenny's lap to mine is one small glitch I'm more than willing to overlook as she was such good company.
The most memorable part of Valparaíso was simply wandering through the streets and taking in the views of the Pacific and the colorful buildings stacked along the cliff faces.  Turning each corner always promised some new visual treasure to explore with a cup of coffee never following too far behind.
You might also like...
Share and Enjoy