Kenny and I just returned from an unforgettable 12 days in the Galapagos Islands – 8 days aboard ship and 4 solo on the islands of Isabela and Santa Cruz. Though initially we had intended to fly to the islands independently and day trip to nearby sites, we found a last minute deal in Quito aboard the Yate Floreana.   Being low season, the price was much more economical than we had imagined based on research done previously in the States and we felt the opportunity was too good to pass.  The primary advantage of seeing the Galapagos by boat is you are able to visit islands which are impossible to reach by any other means due to their remoteness from the main, inhabited islands.  Choosing an 8 day cruise over the 4 day option also meant we were able to travel much farther to more peripheral islands for a broader experience.  It is quite possible that after this voyage, these islands may be my favorite place on Earth.
There was no way to prepare ourselves for the kind of experiences we would have in this national preserve.  I had the understanding we would see amazing wildlife and they would be up close and personal, but true comprehension of what that meant escaped me until our first island visit when we came face to face with the Galapagos Giant Tortoises which roamed free on Santa Cruz Island.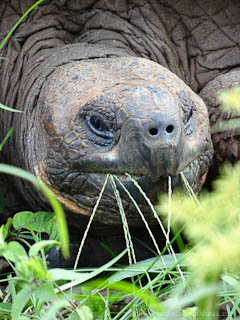 These giant creatures were present in large numbers in the highlands and in almost every direction we looked, at least 1-3 tortoises were lumbering through the brush or relaxing in mud pools or ponds.  As the largest living species of tortoise in the world and one of the longest lived vertebrates, their size and age were impressive.  For example, we came across a male tortoise whose age was approximated at 150 years and was at least 4.5 ft (1.3m) in length.
Other terrestrial species we spent a great deal of time observing included numerous bird species and the marine iguana.  The incredible part of seeing the majority of these animals is that they are present nowhere else in the world.
For instance, the marine iguana is located only on the Galapagos Islands and for that reason is often called the Galapagos marine iguana; a common naming scheme for many of the endemic species.  Colonies are present throughout the islands with the largest sized iguanas being in the westernmost islands of Isabela and Fernandina.  There were stretches of lava rock on these islands that were so packed with these reptiles it was essential to step carefully while hiking to avoid accidentally stepping on a stray tail.  While wonderful to watch them on shore, it was even more incredible to see them swim through the ocean, navigate the surf and most impressively see them swim and dive through our snorkel masks.  They are incredibly graceful under water and can stay submerged for up to 30 minutes munching on their algae diet.
After a swim, they climb back up onto the lava rocks to warm their bodies in the sun and expel excess salt in their blood through a specialized nasal gland.  This process would be a great caricature as they sit and spit salt from their noses.  If not careful, this excretion was liable to end up on a curious observer or camera lens if too close.
While the reptiles were incredible, it was truly the birds I fell in love with on the islands.  Never in my life would I have considered myself a bird person yet, on this trip, I found myself memorizing the name of each species we observed, learning their male/female and juvenile color variations and cheerfully calling out their names as they soared overhead.  This love affair began almost immediately as the first place we traveled was to an island by the name of Genovesa, or Bird Island.  It is known for its nesting colonies of Nazca (masked) Boobies, Red-footed Boobies and Frigatebirds along with Swallow-tailed gulls, Darwin finches, Galapagos mockingbirds, storm petrels and tropicbirds.  The birds were incredibly unafraid of people and it was possible to photograph them at very close distances.  The mockingbirds in particular were very curious and friendly and would hop straight up to you as if to get a closer look.
While on our first hike, we observed almost all of these species just off the trail, many of which had chicks recently hatched.  We saw a mother Red-footed Boobie feed her chick a regurgitated fish and I took video of an amorous pair of Nazca boobies looking to create a chick of their own.  That afternoon when we returned to another point off of Genovesa for the second hike of the day, we were greeted at the top of Prince Phillip's Steps by a Short-eared Owl.  It was no more than ten feet away and graciously posed for our cameras on the sea cliffs.  He appeared again later in the hike to perform numerous fly-by visits which Kenny successfully captured with his lens.  It was difficult to process that this viewing was simply a typical Galapagos experience and not a staged event as it created such a surreal feeling to see an owl out in broad daylight.
Each day in the Galapagos brought new experiences and species to observe as we made our way from island to island.  Though we did not visit the southern islands, known for their nesting sites of the Blue-footed Boobies, we did see countless numbers of these birds perched on cliffs, flying through the air and diving into the ocean in search of fish.  Despite the notoriety of the Boobies, the bird which most captured my heart was the tiny Galapagos penguin.  As one of the smallest penguins in the world (3rd smallest species) standing only a maximum of 19 inches tall, their funny walk and graceful swim made them especially endearing.  I found them most incredible to watch in the water and was able to swim side by side with one particular little bird for at least 5 minutes during one of our snorkeling sessions.  I couldn't believe how long he stayed close by before shooting off like a bullet through the water in search of better entertainment.
Other amazing animals we observed underwater included countless species of fish, giant eagle rays, white tipped reef sharks (tintoreras), Galapagos green turtles, fur seals and the star of underwater mammals, the Galapagos sea lion.  Some of the beaches we visited were packed full of these sweet-faced animals with many of them still nursing their young.  Some of the babies we came across were no more than a week old and were carefully hidden by their mothers in mangrove bushes as they went off to fish.  We even were fortunate enough to come across a mother with a pup only days old.  A pair of Galapagos hawks had perched nearby to claim the placenta which allowed us to photograph the two species together for an extra special treat.
Snorkeling off the beaches and reefs also provided an incredible interaction with the sea lions as they curiously followed our movements and would playfully swim circles around us in the water.  One particular game included a full speed swim directly towards our funny, masked faces only to come to a sudden stop 1-2 feet away.  For a brief moment we would make direct eye contact and then the sea lion would dive directly below, twirling acrobatically only to repeat the game with the next snorkeler in line.
In addition to the incredible wildlife we saw, it is almost equally important that we had the most wonderful group of people aboard our ship to share in the experience.  Somehow, it worked out that we were all of similar age with very active lifestyles.  Naturally, we had all opted for a smaller ship (16 passenger max) with an active itinerary  including twice daily hiking and snorkeling excursions.  Another benefit to low season was that we began the trip with only 9 of 16 spaces filled on the ship with another 4 joining midway through which allowed us each a little extra space to relax.  One downside to a smaller vessel was that it was much more prone to the ups and downs of a rough crossing compared to the larger ships.  However, the touch of seasickness was well worth the reward and I wouldn't have changed a thing.  To round out the entire experience, we had a very professional, friendly and knowledgeable crew and guide which I can happily recommend without hesitation.
In summary, the Galapagos Islands are an incredible experience that anyone with a love for animals and adventure will whole-heartedly enjoy.  I imagine the overall experience will be one that I carry with me forever.  At some point, we would love to return and visit the southernmost islands which we did not have the funds to include in this adventure.  Waiting for our camera lenses will be the Waved Albatross and Blue-footed Bobbie nests and possibly, a scuba adventure if we ever manage to get our certifications!
* Click here to see our Galapagos wildlife gallery.
Itinerary Summary
Briefly, our itinerary began from the island of Baltra and traveled to the northern highlands of Santa Cruz to view the Galapagos Giant Tortoise. From there, we traveled overnight to the remote island of Genovesa.  On day 3, we visited the islands of Santiago and Bartholomew followed by Chinese Hat and Whale Bay in the south of Santa Cruz the following day.  On the fifth day, we visited the giant tortoise breeding center at Puerto Villamil on the southern tip of Isabela Island as well as the tiny islands of Los Tintoreras.  The following day, we visited Fernandina Island (Espinosa Point) and Tagus Cove on western Isabela.  Day 7, Santiago Island at Egas Port and Rabida Island with it's red sand beaches covered in sea lions.  Finally, on our last day, we visited the tiny island of Daphne Mayor before returning most of the group to the airport on Baltra Island.
You might also like...
Share and Enjoy