Trekking in Nepal has been a personal dream since I first started to admire pictures of 'big' mountains as a teenager.  I always imagined it as a remote, difficult to access place where only 'real explorers' traveled.  Guys like Sir Edmund Hillary or Ed Viesturs went there to climb the big peaks and write books about their life-or-death tales.  In an odd way, I think this sums up the naive view of travel I had for a long time before we began this trip.  It wasn't until I met people that had traveled around-the-world or lived abroad or who had actually trekked in the Himalayan mountains that I begin to think, I could do it too.  The places I wanted to go were perhaps not so remote, not so difficult to access and were visited by 'real' people.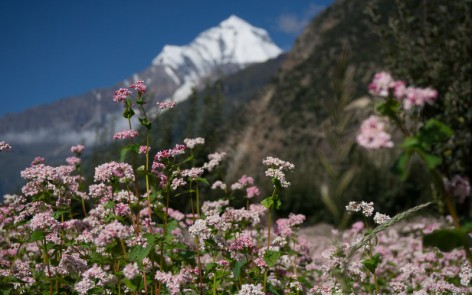 After considering possible trekking routes, we ultimately chose the Annapurna Circuit because of its reputation for beautiful scenery combined with the cultural exposure of hiking through local villages.  The trail circumnavigates the Annapurna mountain range and passes through a wide range of climates and scenery.  It begins in the lowlands among lush, green, terraced rice farms and ascends into alpine vistas and desert plateau.  Depending on how it is trekked, the route covers some 100-145 miles (160-230 km) or more if additional side treks are undertaken.  The trek begins at an elevation of 2,590 ft (790m) and ascends to 17,769 ft (5,416 m) for gains of over 15,000 feet.
The logistics of doing the trek were surprisingly easy to manage.  After landing in Kathmandu, we found a trekking company and hired a porter (not a necessary step but certainly one we appreciated),  rented sleeping bags and picked up a few trekking supplies we didn't already have in our bags.  Taking a bumpy bus ride to the trail's starting point was the final step in the process.
Thanks to Ram Hari, our porter, we were free to enjoy the trek with just our cameras, water and a few clothing layers on our backs.  Being a tea house style trek, we did not have to worry about packing a tent, cooking gear or food as all are provided by the local lodges or 'tea houses' along the way.  Thus the circuit is really more a series of day hikes through gorgeous landscape without the worry of heavy packs or setting up camp.
We started our trek in the town of Bhulbule and walked the entire way around the circuit to Nyapul with an added side trip to Tilicho Lake.  As best I can calculate, we walked around 144 miles over 19 days.  Our high point on the trip was literally the Thorang-La Pass at 17,769 ft (5,416 m) where we enjoyed snowy, high-fives and photo ops with our trekking friends and the 'low-point' was a rest day in Tatopani soaking strained quadricep muscles in a natural hot spring.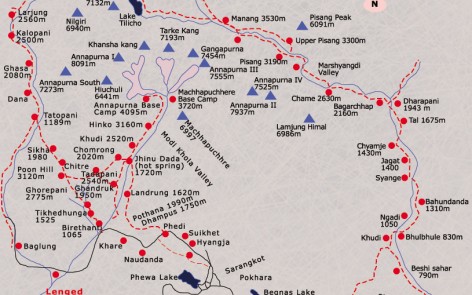 We met a few trekkers who had completed the circuit in the early 1980's, not long after it was first opened to tourists, and were returning to see how it had changed over the years.  Without a doubt, there were some rather dramatic differences.  For instance, when it first opened to tourists, there was no road access to the outside world once the trek began.  Hiking from village to village was the only way to move from place to place either as a local or a trekker.  The tea houses, as opposed to being geared toward the tourist, were really more like being a guest in a person's home.  This made the trek overall a more personal experience with the added bonus of remarkable scenery.
Now, the trail is a popular tourist destination and hence a major source of income for the locals.  The trek still passes from village to village.  However, in many places, basic roads have been constructed connecting the villages to the outside world with more roads being built every year.  This is a direct result of the tourist dollars which have flowed into the region and given the local people better access to supplies, medical care, etc.  For the locals, this progress is undoubtedly beneficial, but it also affects a part of the reason the trek became so popular in the first place.
As a result of this developing infrastructure, particularly unique and striking interactions are created between Nepal's past and its burgeoning more modern future.  For instance, as we trekked from one village to the next, there seemed no end to the swinging rope bridges which crossed over rivers and ravines from one side to the next.  Sometimes, they were steel cable reinforced, sometimes not.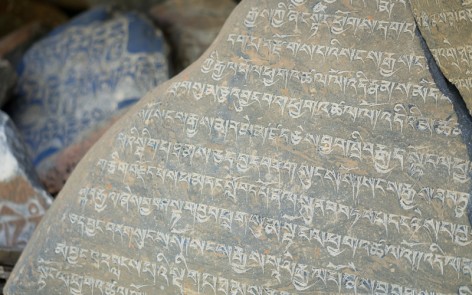 One day, as we walked up to the start of a particularly rustic appearing bridge, a motorcycle overtook us on the trail and paused at the mouth of the bridge.  A young man and his son were preparing to cross to the other side.  Maybe it was just me, but as I watched the boy lean around his father to stare at the bridge in front of them, I imagined that just maybe he was as nervous about a motorcycle driving over that bridge as I was.
One of our favorite villages on the trek was beautiful, little Marpha, located on the downward stretch following the pass.  It is well-known in the region for growing particularly tasty apples and appreciated by trekkers for its subsequent apple pies.  It so happened we lucked into a room at a lodge that was particularly celebrated for its pies.  A fact we learned after having already happily eaten several slices apiece.  There was also a large buddhist monastery overlooking the village adding to its charm with hundreds of prayer wheels arranged throughout.
One of the most beautiful places we visited on the trek was Tilicho Lake.  It is one of the highest altitude lakes in the world at an elevation of 16,237 ft (4,949 m) and added an extra three days of trekking to our route.  The trail to the lake is a bit more adventurous than the main Annapurna circuit as a portion of it traverses a long, steep scree slope which is plagued by frequent rock fall and high winds.   So long as time and legs permit, the lake is a very worthy side trip.  Lying at the foot of a massive glacier on Mount Tilicho, it is a lovely gray-blue color and wonderfully serene and peaceful.  It also was our first real exposure to such a high altitude.  For perspective, there is nothing in the continental US is above 14,500 ft. (Mount Whitney) and personally, I'd never been over 13,000 ft.
Though neither Kenny or I really experienced any symptoms of altitude sickness, we met a number of trekkers on the circuit which did.  Their symptoms ranged from headaches to nausea and vomiting and even one with impaired coordination.  As a result, some of them either had to descend to lower elevations or be evacuated by helicopter.  We carried Diamoxx (acetazolamide) and used it prophylactically for a couple of days preceding the pass and completed it without incident.  Seeing other trekkers struggle with the altitude was a reminder of the inherent risks of high altitude trekking.  It is always important to be aware of how you are feeling on any given day and to 'listen' to your body.
My 'listen-to-your-body' moment came as we trekked from Muktinath to Tatopani on the other side of the pass.  After descending almost 14,000 ft over 2.5 days, my left quadricep muscle was shot.  At the end of each hiking day, I found myself hobbling down the trail and was concerned that we would have to end our trek prematurely.  As a wonderful coincidence, my forced rest day happened to come in a town with a natural hot spring.  Where better to rehabilitate a strained muscle than in a natural hot tub!
Incidentally, showers were a bit of a luxury item the closer we got to the pass.  After a point, what was once the option of an enclosed shower became just a bucket of hot water behind a closed door.  Strangely, that bucket was quite possibly the most amazing shower I've ever had.  I still don't understand why it was so amazing but… it just was.
After a day of rest and hot spring therapy, my leg made a full recovery and we were able to complete the remaining 3 days of the circuit.  We were rewarded with a spectacular sunrise at Poon Hill which had fabulous 360-degree views of the Annapurna range.  A fitting finale to this incredible trek.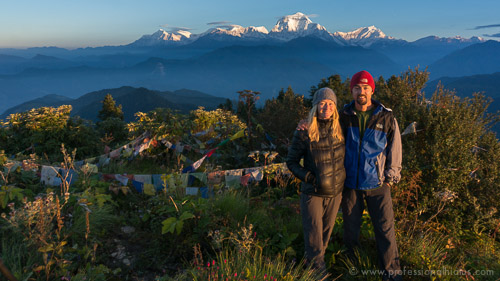 The trek on the whole was amazing and despite its changes as a result of modernization, I still feel it is one of the world's great treks.  Is it different than it was 20-30 years ago?  Of course.  However, the countryside is remarkable and the people, for all their changes, are still welcoming, friendly and (with very good reason) proud of their home and heritage.
You might also like...
Share and Enjoy