The Issue
It was day 302 on the road when we arrived in Singapore from Sydney. To make a long story short, we were headed into what is affectionally referred to as "travel burnout". We knew we needed a change to rejuvenate our traveling spirits, but what exactly? After spending a few days in Ubud, Bali we believed we had found our answer…
The Solution
…yoga.
Well, maybe I'm stretching it a bit (no pun intended) to say yoga was the entire solution, but it was a considerable portion of it. I know what you're thinking… how cliché. We're having some "issues" and need to sort things out, so we'll head to Bali and let yoga work everything out for us.  But, If spending some quality time in Ubud helped Elizabeth Gilbert, surely it will help us too, right?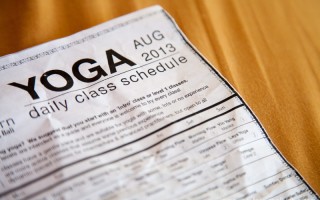 The change we needed was to unpack, settle down for a while and try something new. The "something new" would be yoga – and what better place to give it a whirl than in Ubud.
Ubud and Yoga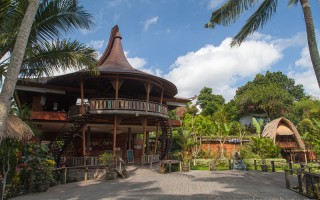 Ubud is a mecca for yoga. Nearly half of the tourists walking the streets seem to be wearing spandex, carrying rolled-up yoga mats slung over their shoulders and possibly wearing the popular fisherman-style pants that come just below the knee. Yoga attracts all types of people – from grungy, ukulele-wielding hippies to mid-life-crisis 40-somethings and retired-and-loving-it individuals. They are all in there and more.
There is no problem finding yoga classes to attend.  Both public and private ones are available ranging in difficultly from beginner to advanced.  If a rest day is needed, there are plenty of things to do to keep you busy.  Walk through picturesque rice patties, eat amazing food, get a massage, go volcano trekking, head to the coast for some diving, rent a scooter and explore the countryside or just relax and do nothing.  Sometimes doing nothing is a lot of fun, too.
Men Practice Yoga, Too?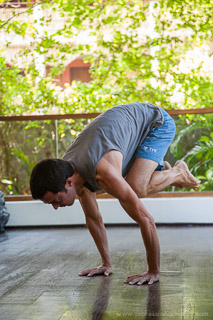 Yoga is practiced by both men and women, but I think it safe to say is a female-dominated activity in Western cultures. If you are a "man's man", you're probably asking yourself, "So while Laura is doing yoga and figuring things out, what will Kenny do with his time? Isn't yoga just a bunch of stretching and chanting mixed in with some touchy-feely, get-to-know-yourself, carpe-diem nonsense? Maybe he should go surfing, learn to walk over hot coals to participate in a local fire dance or pursue some other more manly avenue."
Nope… Kenny will practice the practice of yoga.
Roughly 85 – 90% of the participants in the classes I took during our stay were female – higher than the U.S. national average of 72% according to a recent survey. Since the physical aspects of yoga are deeply set in one's flexibility, it is no wonder women typically excel quicker than men. I wonder if this has something to do with why more men don't attempt or stick with yoga.
If you lack flexibility (like me), you will need to invest a lot of time and effort to acquire more of it. For some, it may take months and even years to gain a level of flexibility they are happy with. One of my teachers mentioned there are actually things referred to as "life poses" – a yoga posture so difficult (specific to an individual) it may take them most of their life (or a large portion of it) to realize.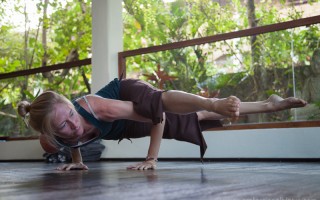 In many athletic activities, men can compensate for things like balance and flexibility with strength. Take rock climbing, for example. A climb can be completed with style and finesse by using proper technique – technique requiring a good level of flexibility. However, the same climb might also be completed by using poor technique with more muscle thrown at it. Throwing muscle at yoga postures doesn't get you very far, in general. Sure, having some upper body strength for arm balances, proper hand stands, etc. is useful. But, without flexibility, even these poses prove difficult.
So, for the guys, you really have to be okay with getting shown up by women for the duration of your 90 minute class. On the flip side, if you are single, looking for a woman and not participating in yoga – what are you waiting for? Stealing a line from The Hunger Games, "May the odds be ever in your favor."
Beyond Downward Facing Dog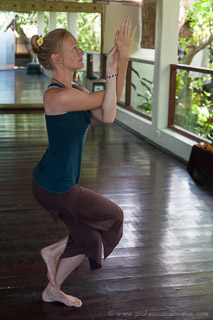 For those not familiar with yoga, the word may conjure images of people binding themselves into contorted positions. You may also know the names of a few popular poses, like plank, cobra and downward facing dog. However, for many, this only scratches the surface of what yoga is all about.  Not only were there Hatha, Vinyassa and Iengar classes – yoga forms working on the physical aspects of yoga – but also classes on sound healing, meditation, Thai yoga massage, Tibetan bowl therapy and others.
Researching online about what yoga is really about will get you millions of answers. What they all seem to agree on is the physical aspect of yoga is a very small part of making yoga a lifestyle.  These poses are a means of giving one more control of the body, making it more fit for meditation.
Some Unexpected Yoga Experiences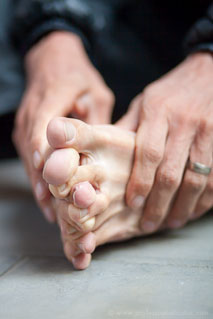 I didn't have a total picture of what I'd be getting myself into when I signed up for a month of yoga. Here are just a few memorable highlights:
* Breathing , in and out, deeply and rapidly (violently) through my left and right nostrils individually. We performed this exercise for roughly 20 minutes in my first "Intro to Yoga" class. If you have congestion or a cold when attempting to perform this exercise, it can get pretty messy – just trust me on this one.
* Interlacing all 10 of my toes, squeezing them together with the combined strength of my feet and hands (which is painful) then pulling them apart again without using my hands. This would be a great thing to try around your office's water cooler or on a first date as a conversation starter.
* Attempting to "relax" while lying down and rolling around on tennis balls placed in "key" positions under the back and outer thighs. Advanced students actually replaced the tennis balls with billiard balls. It was explained if there was "discomfort" felt during the exercise, the balls where in the correct place.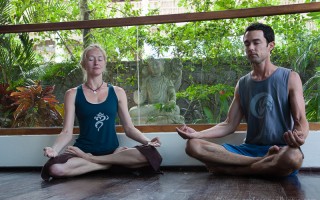 * Undergoing "sound therapy" for an enhanced meditation experience. Warning – this apparently doesn't work for everyone. When the class leader asked if anyone had anything to share after the healing was over, two individuals complained they found it "quite painful" and resulted in their newly acquired headaches.
* Participating in acro yoga – balancing acrobatics performed with a partner. If you want to kill some time, search for "acro yoga" on YouTube. Some of what is being done is quite impressive. If you've been to a Cirque du Soleil show, you've at least seen something similar.
A Few Things I Learned from Yoga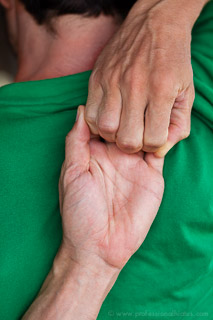 * More about my body (the good and the not-so-good)  Yoga can make you (sometimes painfully) aware of the limitations of what your body can do. You may discover your shoulders sit slightly uneven, you can sit deeper into one leg more than the other or you are much more flexible twisting to the left than to the right. The good news is, now that you are aware, these are things you can begin to work on.
* Try new things (and try them often)  Trying something new may take you out of your comfort zone, but may open new possibilities not previously available. I really enjoyed some of the classes and will attempt to make it something I do regularly when I return to the "real world".
* Stay humble and never stop learning  I did okay in some classes, but was slaughtered in a few, too. Just when you believe you are getting better (or mastering) a skill, you discover there is still much to learn… another level to obtain. Don't get frustrated – get excited there is more to learn and room to improve. There are yoga teachers with 15+ years of experience under their belt still working on poses they can't quite master. Whether it's acquiring a new skill to perform your job better/easier, learning how to negotiate into a different yoga pose or how to play the bass on the advanced level in Rock Band… keep at it. If there isn't something new to learn – whatever it is you are into – life would get really old, really quick.
You might also like...
Share and Enjoy