The white continent. We started dreaming of this place when we first began to discuss a round the world trip. It is the seventh continent, a difficult place to reach and certainly a place less traveled than most. It is almost exclusively accessed by ship and requires a minimum of 2 days at sea to reach at its nearest point on the Antarctic Peninsula. If departing from South America, this requires crossing the Drake Passage which has the notorious reputation for having the roughest seas in the world with waves that can reach over 30m (98 feet) in height during a storm.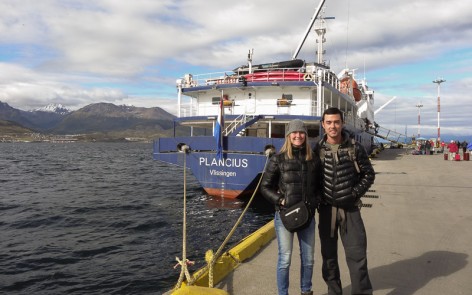 No surprise that on departing for our trip, there was some general anxiety regarding what the Drake would bring in terms of waves. I proved to be less than seaworthy on our last boat adventure in the Galapagos and was duly prepared to suffer a bit even with my bag of motion sickness medications. We were briefed by the crew with weather maps showing the low and high fronts moving through the area and, at least at that moment, the sea was looking good. Thus, our 12 day adventure aboard the M/S Plancius began.

Amazingly, the Drake Passage was kind to us and though not a 'Drake Lake' as has been described by some with smooth crossings, we didn't see any significant swells. Not to suggest I was not still sea sick, I was, but it was gratefully at a manageable level and I wasn't stuck in my cabbin for the entire voyage. Kenny, as always, took to the ship like a sailor and didn't skip a beat.
The overall experience of Antarctica is almost indescribable to me.  After two days at sea, we finally saw 'white' on the horizon.  I expected to see big ice and some wildlife but I didn't expect the 'BIG ICE' and 'WILDLIFE' that we saw. Everything was on a scale that I hadn't even considered. We saw mountainous islands covered in snow and glaciers that descended to the sea. We sailed into an active volcanic crater at Deception Island and felt the comparatively warm waters within. We watched the ocean's surface literally freeze as we traveled south past the polar circle and saw icebergs the size of buildings that floated in the ocean as we stared unbelieving at their shockingly blue color. And then, there were the penguins. Absolutely thousands of them gathered in colonies all along the peninsula with charismatic personalities all their own.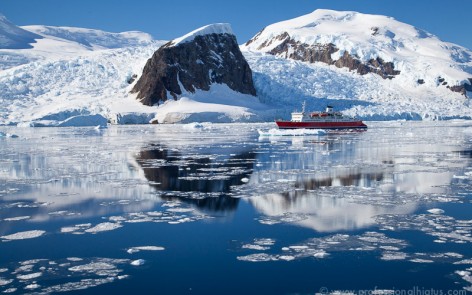 It was here I truly fell in love with penguins as we met the chinstrap, gentoo, adelie and macaroni penguins for the very first time. We sat quietly on the beaches as these awkward little birds walked straight up to us and curiously picked at our boots, backpacks and zipper pulls. I could have sat for hours just watching them and laughing at their silly antics. As clumsy as they seemed on land, once they waddled off into the ocean, it was a completely different story and they became graceful and fast as they leapt easily out of the water like dolphins.
We also saw the wilder side of Antarctica's wildlife, the National Geographic version, as we came upon a pod of orcas attacking and drowning an Arnoux Beaked Whale. They swam in turns above the whale working together to keep it below the surface of the water until it was drowned. We watched leopard seals catch and devour penguins just off shore. One such 'show' lasted 15 minutes or more as the seal played with the penguin like a cat and mouse until eventually settling down to lunch. During that time, it leapt acrobatically with its body catapulting halfway out of the water to throw or catch the penguin.
Though I sat and filmed almost the entire scene, I cried the whole time as I watched the penguin struggle to get free. I perfectly understand the predator prey relationship but I can't help but see leopard seals and orcas in a different light now as I find that I have a tendency to cheer for the underdog. Watching first hand the struggle for life and death is an entirely different experience than seeing it portrayed in a wildlife documentary.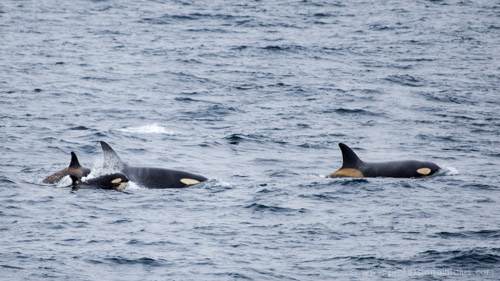 For me, one of the best days on our entire trip was had while in Antarctica on March 13, 2013. This was the first day we set foot on the Antarctic continent proper as opposed to one of the peripheral South Shetland Islands. It was a beautiful, calm, sunny, blue sky day. The sort of day everyone hopes for weather-wise but many are not lucky enough to experience on the continent. We took a fantastic, short hike to a point overlooking the bay where our ship was anchored. There, it floated at the foot of the steep glaciated cliffs off shore and amongst the icebergs which collected in Neko Harbor. Here, we had our official polar plunge.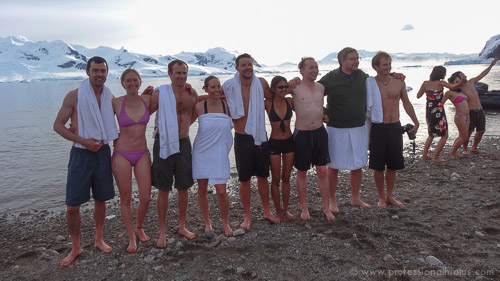 The polar plunge in particular was something Kenny and I had considered a 'maybe' from the start of the trip. On one hand, there are bragging rights given to anyone crazy enough to 'willingly' jump into below freezing (-1.6°C or 29°F) waters. On the other hand, maybe the whole thing was just crazy and needless torture. In the end of course, bragging rights won out. How could we pass up an opportunity to swim in the Antarctic Ocean? Together, we ran out from the beach and dove beneath the frigid waters. There were small chunks of ice (referred to as bergie bits) floating in the water with us and little penguins went leaping out of the water where we had been just after our swim. Frozen toes and all, it was worth the pain and I think either one of us would do it again given the chance!
http://youtu.be/CAjTazo5DhA
Even more so than the polar plunge, a close encounter of the penguin kind was what truly made this day my most memorable. While on our hike, we came upon a small colony of gentoo penguins. One in particular appeared lethargic and was seen to have an unidentified object wrapped around its upper beak such that it was unable to close its mouth. The staff ornithologist has discovered it just as we were walking by and had radioed to the expedition leader for permission to catch it and remove the object.
As the permission was given I immediately volunteered myself to help him with the penguin. As a vet, and animal lover in general, I couldn't pass up the opportunity to legitimately handle and help a penguin. As no other staff was nearby, he agreed to my help and we quickly (and gently) captured the bird and removed the object from around its beak. What turned out to be a hollowed out mussel shell had lodged itself tightly around the base of its beak and prevented it from closing its mouth. I imagine this would have significantly hampered the penguin's ability to dive and secure food and in the end could have resulted in a slow starvation. For me, to have had the opportunity to intervene for the benefit of that penguin will be with me for quite a long time.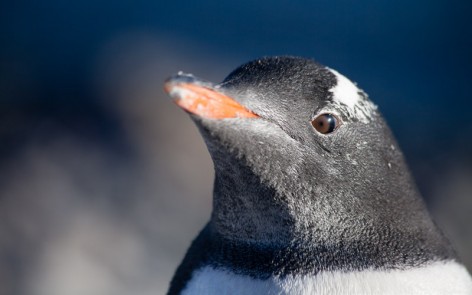 People say that Antarctica is a place that gets into your blood and (if you loved it) will inspire you to explore further and see more of the polar regions. This was certainly true for us and soon we will write more on our trip to South Georgia Island. Maybe, if not this trip then certainly on another, we also hope to find a way to travel north into the Arctic regions. At least for now, a few life goals (that I didn't know existed before they happened) have been accomplished.

1 – Land on Antarctica – check
2 – Cross southern polar circle – check
3 – Sail into the crater of an active volcano – check
4 – Polar plunge – check
5 – Save penguin – check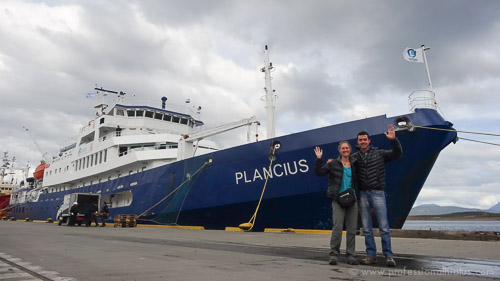 * Click here to see our photo gallery of Antarctica and South Georgia island.
You might also like...
Share and Enjoy