Never underestimate the power of a personal connection and the impact it can have on your overall experience of a place.  While sick in Puno, we befriended a young boy working in our hostel simply by smiling and greeting him each morning by name, Santos.  He was initially shy and soft spoken, but over the course of that week, he gradually began to open up and interact back with us.
We learned Santos had been working at the hostel for the last 6 months (his second such stint) and that he and his family actually lived on the island of Taquile in Lake Titicaca.  His first language was Quechua, but he had learned to speak Spanish while in school on the islands as well as a bit of Portuguese.  In the past 6 months, he had begun to learn a bit of English while working in the hostel.   All this by the tender age of 14!
As we became more curious about his home, we learned the textiles produced by the people on the island of Taquile were proclaimed by UNESCO in 2005 as "Masterpieces of the Oral and Intangible Heritage of Humanity."  From Santos, we learned he had begun to knit at the age of 8 and now crafted and sold his creations in the artisanal shops on the island.  An interesting fact regarding craftsman on the island is that only men knit and the women weave.
As we became healthier, Santos asked if we had plans to visit the islands of Lake Titicaca.  At the time, our plans to visit the islands were based from the Bolivian side of Copacabana and not from Puno.  However, we learned Santos was returning the following day back to his home on Taquile and he extended an invite for us to stay with his family.  Not to miss the opportunity  to know such a unique place through the eyes of a local friend, we promptly packed our bags and made reservations to take the tourist boat to Taquile.
A side trip on the boat ride was a brief stopover on the floating islands of Uros.   Amazingly colorful and scenic, it was surreal to step foot onto islands that literally floated in the middle of Lake Titicaca.   The totora reed is used to build absolutely everything on the islands – from the houses to the boats to the floating base of the island itself.  Though we questioned whether the inhabitants of the island we visited truly lived on their patch of floating grass, further reading indicated at least 200 people actively live year round on the islands themselves.
On arrival to Taquile, we were greeted by the uncle of Santos (Selso) and shown to our room on his farm.  We then went on a walk with him to explore the island's scenery and culture.  Selso spoke little to no English, therefore we entirely relied on our abilities to understand and speak Spanish to learn about the island.
One of the many interesting things we learned is the island's population was divided into 6 regional groups all with a governing head and one elected elder to govern over the whole of the island.  All families had pre-Incan terraces in which to cultivate their crops and keep their sheep.  Though every family had sheep, only 7 families on the island owned cows.  Except at times of island-wide fiestas, their consumption of meat was limited to fish caught from the lake, hence the sheep and cows were used predominantly for milk, cheese and wool.
The island was alive with rich and unique traditions which for us was captivating.  To me, the most interesting of these surrounded the traditions of couples.  A person's relationship status was indicated by the clothing and accessories worn and was thus clear to all other islanders.  For instance, the men wore knitted hats beginning at the age of 3 to indicate if they were married (red hats) or single (red hat with a white top).  A man who was to be married was also presented with a traditional woven belt and bag by his wife-to-be.  Thus, a man like Selso, though technically single as indicated by his red and white hat, was known to be 'taken' to other islanders as he also wore the woven belt and bag.  For a woman, her relationship status status was announced by the size of the pompoms which hung from her shawl.  A woman with large pompoms was single and a women wearing small pompoms was married.
We also learned that in order for a couple to marry, they first had to live together for 2-3 years minimum to determine compatibility.  Then, in the month of May, a minimum of 2 and maximum of 5 couples could marry and would have to provide enough sheep to feed the island's 2,200 inhabitants during the 4-5 day long celebrations.  This approximated 45 sheep – quite expensive!  For this reason, Selso had yet to wed his significant other, Juana, though they had been together for 9 years and had a 5 year old son.  Happily, he indicated their wedding was to take place this May and showed me the belt and coca bag Juana had weaved for him to indicate their relationship status.
After our walk with Selso, we returned to the farm to enjoy dinner with the family.  Santos had just arrived from Puno (his non-tourist boat had broken down on the lake) and made a dramatic entrance to the dining room complete with hugs and kisses on the cheek.  He happily announced he would be showing us his favorite part of the island the following day – the beach!  After dinner, we retired beneath 4 heavy woolen blankets, which did an amazing job of keeping out the cold, and were lulled to sleep by the soothing sounds of thunder and raindrops on our tin roof.
The following day after breakfast, Santos arrived to accompany us to the island's only sandy beaches.  His 5 year old cousin (Wilfredo) talked papa Selso into allowing him to accompany us.  Thus, 2 gringos and 2 adorable island kids set off across Taquile to enjoy the sunny morning.
Wilfredo seemed like every other little boy I've ever met and adored superheroes (Spider Man was his current favorite), loved toy guns (his plastic water pistol accompanied him everywhere) and loved to play with sticks, bugs  and all things squishy (dead fish).  He also managed a pony ride from Kenny and to become the subject of a sand burial at the beach.  Santos too was very much like other 14 year old boys I knew growing up.  He loved electronics and sports and we spent hours playing summer Olympic style games on the beach including the shot put (hurling rocks into the lake), javelin throws and a very serious long jump competition (he won).
I'm certain going on a tour led by an English speaking guide would have been an interesting and informative overview of the island.  However, the chance relationship we developed with Santos at our Puno hostel gave us the unique opportunity to have a more in-depth interaction with and understanding of Taquile and her inhabitants.  We left the farmhouse with hugs and headed back to the mainland having had one of the most memorable experiences of our entire trip.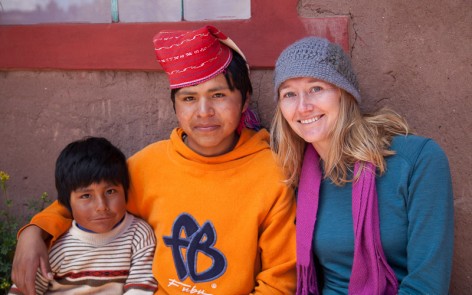 Share and Enjoy