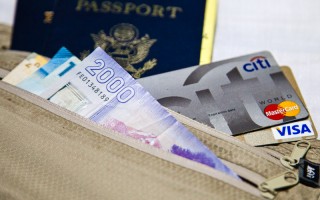 Managing money during extended travel doesn't have to be difficult. The days of having to carry traveler's checks and needing to make trips to the bank in the countries you visit are over. The internet makes the task of managing your money extremely easy.  Combine this with a credit card that charges no foreign transaction fees and a debit card which refunds all ATM withdrawal fees and you have the makings of a beautiful money managing friendship.  Below are a few points on how we manage our money from the road.
Utilize Online Banking
Chances are you already utilize online banking. If you do not, you will want to seriously consider it before leaving on an extended travel excursion.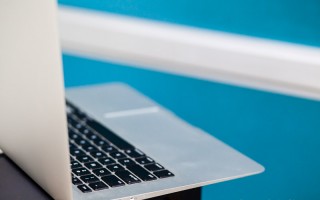 Just about every major bank offers it for free to their account holders. You have access to your monthly statements and you can pay and schedule reoccurring bills. You can typically categorize your expenditures so you can create reports on your spending habits. These are all really convenient services to have at your disposal at just about any time of day… no matter what country you are visiting.  I would go so far to say if you don't utilize online banking, your trip may very well be impossible.
Carry the Right Cards
There is no doubt you will be making use of both credit and debit cards while traveling.  Taking the right cards can save you big bucks via rewards and in lowering/eliminating fees over the lifetime of you trip.
Credit Card
You will want to find a credit card offering no foreign transaction fees. There are several out there, so you should not have any issues finding one. However, some also provide travel rewards, such as 2 travel miles for every $1 spent on your card. How the points may be used varies from card to card, so read the fine print before making the jump.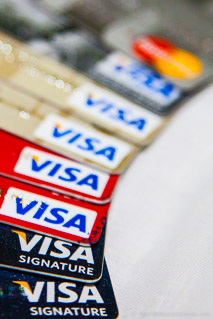 This will not help those who are not US citizens (sorry), but we use the Capital One Venture Rewards card, which is just one of the cards available to offer both no foreign transaction fees and travel miles. I don't know the details on how other cards work, but the Venture card allows you to make travel purchases from anywhere you like and have them "erased" using your travel miles (points). I prefer to call them "travel points", as you can use them for things other than airline miles. Booking hotels, car rentals, cruise packages, bus and train tickets, etc., etc. – they are all eligible for using your points.  I've also heard great things about the Chase Sapphire Preferred card, offerring similar benefits. Again… read the fine print.
Note: I've read having both Mastercard and Visa cards may be beneficial, as some places/machines will not take one or the other. The acceptance of either is probably dependent on the country you are visiting. Therefore, we carry a Mastercard credit card which will only be used in an emergency… when we are left with no alternative but to use Mastercard. FYI – we have not had to use it once after more than 3 months on the road in South America.
Tip:  Get a card offerring the rewards mentioned above as soon as possible prior to leaving on your trip.  We got our credit card and then used it for EVERYTHING in place of our debit card – for groceries, gas, online purchases, chewing gum… everything.  Then, we pay it off each month, so as not to incur an interest fee.  The points will really start to rack up.  Our first flight from the U.S to Ecuador was completely paid for in credit card points!
** If you are not diligent at paying off your credit card balance each and every month on time, sorry… this tip will not work for you.
 Debit Card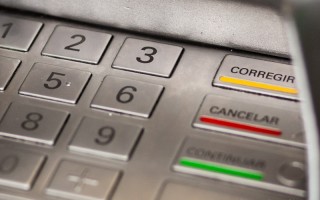 Don't you hate it when you go to an ATM and you see the transaction fee you'll have to pay for the convenience of using the machine? Very often, this fee is doubled because the owner of the machine charges you the fee displayed and then your bank will charge a fee for not using one of their ATMs.
Prior to leaving on our trip, we discovered the Charles Schwab High Yield Investor Checking Account. It is a checking account requiring no minimum balance or monthly service fees. However, the most important aspect of the card is it will reimburse all ATM withdrawal fees made from anywhere in the world!  We save anywhere between $60 and $100 a month on ATM withdrawal fees alone.  Again – I'm sorry… pretty sure this would only help US citizens.
How We Manage Dollars, Soles, Baht, etc.
The simple trick to managing different currencies is to not have much of one currency on you prior to passing into the next country – especially coins. Most currency exchange places will not accept coins from any country. So, whip out your change anytime you have to pay cash for something to get rid of it. The less currency you have to exchange, the better off you'll be.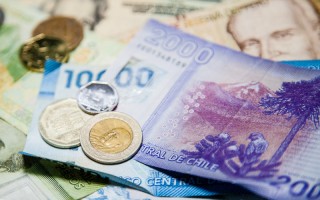 We can usually achieve this by only taking out the required funds to last for a short time period. For example, if we go on a 3-day excursion, we will withdraw enough funds to last the 3 days in addition to money required to get to our next destination. This of course requires us to withdraw funds more frequently than if we withdrew money to last a few weeks or a month. But, carrying around less money means you have less money to lose. If you take a debit card which reimburses you for your ATM withdrawal fees (as mentioned above), the higher withdrawal frequency required won't make a difference to your budget.
Moving Money Around
We couldn't give up our regular checking account prior to leaving on our trip… the one we've had for ages. There was just too much valuable history on our finances to do so.  Therefore, we have two checking accounts… our original one and the Charles Schwab account mentioned previously. We set it up so we can easily move funds from our original account into the Schwab account anytime we want via the internet. We will typically "guesstimate" our expenses for the following month and move this amount into the Schwab account.
Do you want to know anything else regarding how we manage money from the road? Do you have additional suggestions or tips?  Let us know by commenting below.
You might also like...
Share and Enjoy