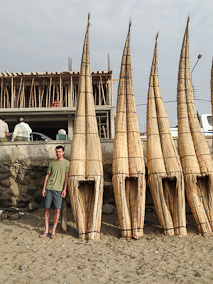 The little beach town of Huanchaco, Peru was our first stop after leaving the mountains of Ecuador.  After our 2am border crossing, we skirted through the northern city of Piura and headed south to Trujillo.  From Trujillo, is was a 20 minute ($0.40) bus ride to the laid back sand and surf of Huanchaco.  What was supposed to be only a 2-3 day visit turned into a full two week surf vacation.  It turns out, rapid town-after-town traveling isn't really our style.  For us, traveling is more enjoyable when we can settle into a town and get a bit of a routine.  Finding our 'juice' lady, favorite food stalls, best coffee and pastry shop and in Huanchaco, our favorite surf spot.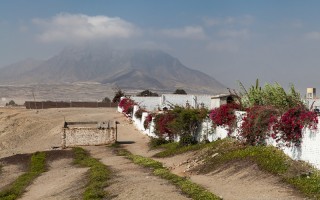 Learning to surf is something Kenny and I have always wanted to do and I can't imagine a better (or more affordable) place than Huanchaco.  To put it into perspective, to rent two surfboards and wetsuits for the entire day cost only 30 soles (~$11.50).  That was only $5.75 per person.  Add a 2-hour surf lesson for an extra $9.50.  I'm not sure what the cost of surf lessons and rentals run in the States but I'm pretty sure this was an amazing deal.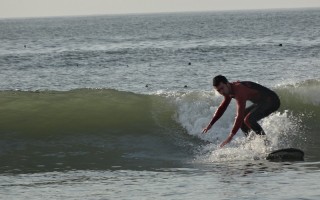 After two weeks, I can't claim that we became great surfers, but we learned enough to be able to continue surfing on our own along the way.  Part of traveling is settling in and appreciating the local culture of a place.  In Huanchaco, the culture was surfing, ceviche and salsa dancing.  Most every day in this little beach town for us consisted of marinated fish, wet suits, the occasional late night and a stomach full of sea water.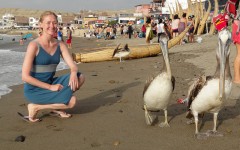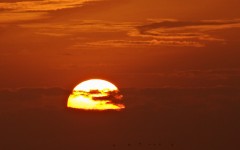 Another  great benefit to staying in Huanchaco for so long was budget repair.  Even with the cost of daily surf rentals, lodging and food; we spent on average only $35 daily for the two of us combined.  This included the cost of the day trips to Trujillo and the ruins of Chan Chan as rest days as well as all other miscellaneous needs (laundry, sunscreen, etc).

Board sports in general have been quite popular for us in Peru.  After Huanchaco, we spent time in Lima and Easter Island and from there, moved on to the oasis of Huacachina.  Literally an oasis, the town circles a small lagoon surrounded in every direction by towering sand dunes.  Here, we were able to take a dune buggy and sandboarding tour.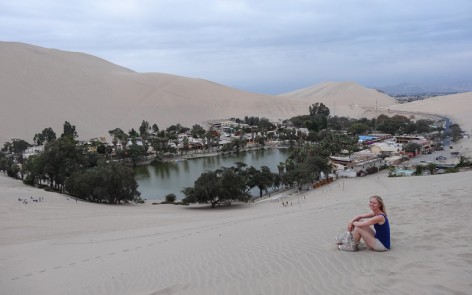 Following the roller coaster that was the dune buggy ride, we arrived atop several tall, impressive sand dunes.  We strapped on our sandboards (aka snowboard, boots and bindings) and launched ourselves down the dunes full speed ahead.  The most fun was had by pointing the boards straight downhill and enjoying the ride.  This felt a bit like powder surfing on a snowboard.  Turning was possible as well but this slowed down the ride and was abandoned fairly quickly.
I'm not sure if we would have learned to surf back home and I'm certain sandboarding would not have crossed our minds.  Looking forward to settling in to a few more towns along the way and having a few more adventures.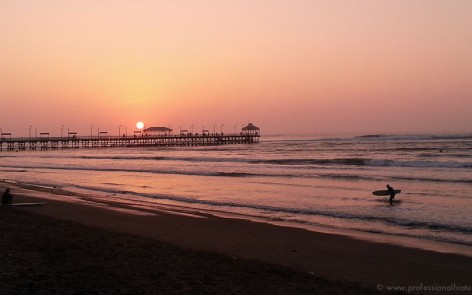 You might also like...
Share and Enjoy