Death Valley is a unique National Park.  It holds the record for being the lowest, hottest, and driest place in all of North America.  This of course begs the obvious question, "Why on earth would you want to go there?"  Honestly, if it were mid-July, the answer is simple – you wouldn't.  However, towards the end of fall, through winter and into early spring, you can surprisingly expect to explore the park in relative comfort.  Though a name like Death Valley immediately creates a perception of a dry, lifeless wasteland, in reality this park has a varied and dramatic landscape which is beautiful in its own right.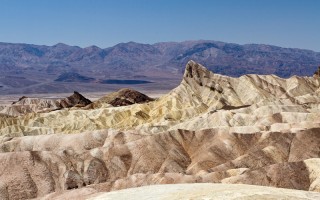 When visiting this park, it is important to keep in mind that it is huge.  In addition to the above records, it is also the largest national park by square mile in the lower 48 states.  In other words, be prepared to spend some time in the car.  Many of the roads are not paved and are stated to require a 4WD or high clearance vehicle for access (though we did not find this to be the case).  Most importantly, several park areas are nowhere near a gas station so if you plan to head off the beaten path, start with a full tank and strongly consider a spare.
Highlights from our recent trip to the park include the Eureka Sand Dunes, Racetrack Playa and the salt flats at Badwater.  Though there are many other impressive areas to visit, these were our top three.
Eureka Sand Dunes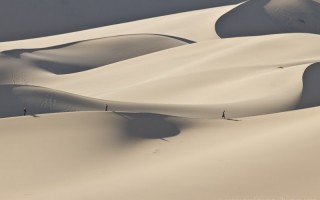 This might just be one of the coolest places in all of Death Valley NP.  There are actually three separate sand dune regions in the park, but the Eureka dunes have the distinction of being the tallest, as well as one of the tallest sand dunes in the continental US, at a height of 680 feet.  These dunes are also pretty well off the beaten path so there is a good chance you will have them to yourself when you visit.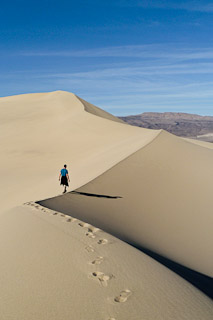 A hike up the dunes themselves will be a highlight of any trip to Death Valley.  Though not the easiest surface to climb, once you find a ridge, the walking gets much easier and you are free to enjoy the experience.
Just as impressive as the daytime scenery was the view of the night sky once the sun set behind the Panamint mountain range.  It is easy to forget how full of stars the night sky is when you become used to viewing them from your own city skyline.  We happened to camp at the dunes during a full moon which made for incredible scenery during the inevitable 3AM pee break.
Badwater Basin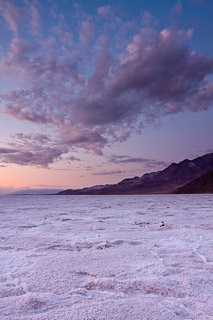 After passing the sign announcing your elevation (or lack thereof) and staring up at the adjacent cliff where a sign marks sea level, hike off on your own into the salt pan for a touch of the twilight zone. This is another one of those places that is just other worldly.
Badwater basin is the lowest point on the North American continent at 282 feet below sea level.  The basin is coated in salt deposits which were left behind when what was once an ancient lake evaporated and disappeared.  The salt, which ranges from 3 inches to 5 feet thick, forms a honeycomb-like latticework which is visually most dramatic when the sun is low in the sky.  This effect is so pronounced that on a mid-afternoon visit, it is easy to overlook the patterns almost entirely – a major fail if you've taken the time to come see the park!
Racetrack Playa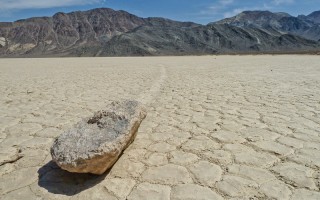 First impression, "Weren't the rocks supposed to be bigger?  Okay, somebody totally faked that trail. There's no way that rock turned a right angle like that."  It's hard to believe a place like this exists and isn't some kind of large scale practical joke.  However, according to the scientific community, these mobile rocks are legit.  Also called 'sailing stones', these rocks can move anywhere from a few feet to several hundred feet across the playa.  Because the rocks move so infrequently, maybe only once every two or three years, the exact 'how' of it is still not known.  Plenty of theories are up for grabs but for our purposes, it's just fun to know that rocks can move.
Even though it feels a bit silly, it's hard not get wrapped up in running from rock to rock snapping pictures or looking for the 'perfect trail.'  The best way to enjoy this place is to suspend your disbelief, give in to you inner child and just go play in the dirt.
You might also like...
Share and Enjoy