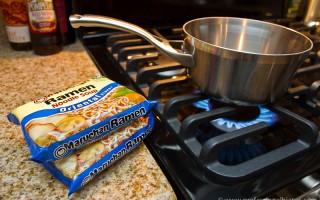 It's 7:24pm PST. I've just finished boiling the water for my two packages of Oriental flavored Ramen noodles. I've turned off the heat and added the flavor packet, stirring gently. Total cost of tonight's dinner: $0.40. If you count the glass of 100% apple juice, make it $0.52.
It is also time to feed the cats. While the noodles are cooling, I reach for two small cans of Blue Basics, Duck and Potato flavored soft cat food. Roo gets a whole can while Ophelia gets 3/4 a can. Whispurr is the only one to get a 1/4 cup of Blue Basics dry food. Please don't feel sorry for Whispurr – all prefer the hard food to the soft. Total cost of the cat food for one sitting: $3.28. Oh, and please – before you even start, no – I didn't name "Whispurr".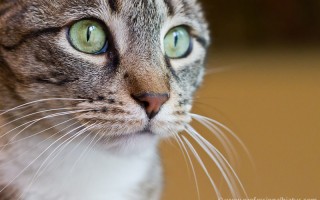 So, what is wrong with this picture? I'm eating like I'm back in college again, yet my cats are having the human equivalent of a steak and lobster dinner.
Making Changes for the Greater Good
Budgeting is one of the most important aspects of planning (and executing) a round the world trip. Since we have several months before we head out, we figured we needed to start the discipline now. Otherwise, it may make for a very short trip if we've spent the 18-month budget in the first 90 days.
We've agreed on and have since implemented the following dining cutbacks:
Bring lunch to work every day – this saves us roughly $40+ a week for just me alone. My apologies to Chipotle, Port of Subs, Lotus of Siam and others. The only thing allowing this to work is keeping something I can put in my desk drawer that will last a week or more… peanut butter, bread, cashews and other non-refridgerated items. Otherwise, I'd use the excuse I awoke too late to make my lunch.
Eat dinner at home every night – this saves us at least twice as much as what we save by bringing our own lunch. We don't typically have time to cook during the week, so having something in the house we can whip together quickly is a must. For example, with a box of frozen muscles and linguine noodles, you can have a pretty tasty dinner in about 12 minutes. If you have a bottle of Welch's sparkling red grape juice to go with – bonus.
Full Disclosure
Ok, so after 6 weeks of being extremely good, in regards to following the above cutbacks, we did "splurge" by going out for Thai on a Saturday afternoon. Research has shown it takes only 21 days to make something a habit, so after 6 weeks of steadfastness, there should be no cause for concern. Besides, the reason for this exception was to celebrate the procurement of Laura's backpack at a ridiculously discounted sales price – cause to celebrate, as any reasonable person would agree.
We split a bowl of Thom Kha Gai and a bowl of red curry with tofu (after a healthy debate on having chicken with pineapple instead of the tofu). The highlight of the meal was accidentally chomping through a green chili I thought was a green bean.
A Changed State of Mind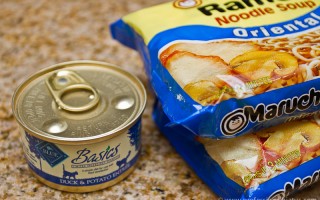 Thirty-five minutes and 3 pitchers of water later, the total bill arrived, which (including tip) came to $24.67. This is no more than you'd spend at your friendly neighborhood Apple Bees, right? However, the only thing I was thinking when signing the credit card receipt was, "Do you know how many Ramen dinners I could have eaten for $24.67?"
You might also like...
Share and Enjoy