"Have you ever been to Narnia?"  This question, delivered by our guide 'Old' Tim, was our first introduction to Norris Geyser Basin as we approached the trailhead.  I was confused by the reference at first until we began our descent into the snow covered forrest surrounding this area.  The trail into the basin was lined by beautiful old growth lodgepole pines covered in pillows of snow shaped by the hot air rising from the valley below.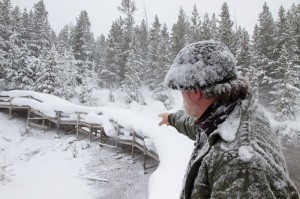 As one would expect, hot water forms steam in the cold, winter air.   No surprise then that a lot of hot water predictably creates a lot of steam.  The wind blowing in our direction was carrying with it steam so thick, the person just feet in front of me nearly disappeared in the haze.  As promised, the scene truly was reminiscent of passing through the wardrobe and into Narnia – magical.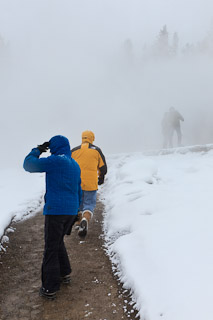 Emerging from the trees to stand at the basin overlook initially revealed a hazy nothingness.  As we strained to see the landscape below, a large gust of wind swept through momentarily lifting its steamy curtain to show a huge expanse of active geothermal features steaming and bubbling below.
The view took each of us by surprise as the scale of Norris Geyser Basin was something not one of us had expected.  In addition to its impressive size,  it is also the hottest geyser basin within the whole of Yellowstone National Park.  Though it doesn't have the same concentration of features as the Upper Geyser Basin, most famous for the 'Old Faithful' geyser,  those present did not fail to impress.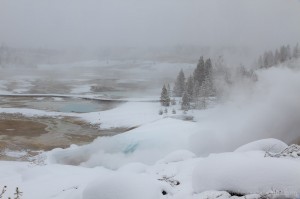 Strolling along the boardwalk (rather, the two feet of snow on top of the boardwalk) through this wonderland was an experience I'll never forget.  The lack of human traffic gave us the opportunity not only to see and smell but also really 'hear' the features. From the little bubbling pools that sounded more like the tinkling of bells to the huffing fumaroles, each had a unique sound all its own and helped to create the personality of the place.
Though Yellowstone in any season is a worthwhile trip, the winter landscape for me made the largest impression.  The stark contrasts between the frozen landscape and boiling hot geothermal features made an impact with which a summer viewing could not compete.
Check out our Yellowstone gallery here.
You might also like...
Share and Enjoy