After a whirlwind adventure to the largest caldera on the planet, here are our top picks of must do activities in and around Yellowstone National Park in the winter.  Though there are lots of great towns around the park, we were based out of West Yellowstone, MT, which influenced our choices for places to travel and tour companies from which we chose.
1. Climb Into the Caldera – Tour Yellowstone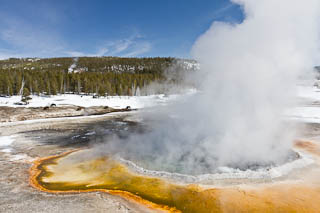 This is the obvious choice when visiting Yellowstone NP, but in the wintertime, it may not be as straight forward as you think.  Once upon a time in the not so distant past, people were allowed into the park with little restriction.  The current park regulations require people entering the park by motorized vehicle to travel as part of an organized tour with the exception of the northern entrance to Lamar valley.
Options for these tours include riding by snowmobile or by snowcoach with cross-country ski and snowshoe drops easily arranged.  Even better, you can charter a private snowcoach, catering to your own personal interests and time constraints.  Though several companies are available to choose from, we chose Yellowstone Vacations Buffalo Bus Company to host our adventure and had a fantastic time.
2. Mush Puppy! Mush! – Go Dog Sledding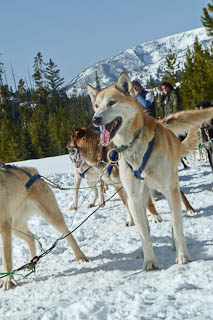 I don't believe anyone can fully prepare themselves for the pure joy of mushing a pack of 10 sled dogs down a snowy, single track trail.  There are several options for taking a sled dog tour from around Yellowstone NP, though we chose Spirit of the North to host our adventure.  The tour was structured so each person is able to participate as much or as little as their comfort zone and desire allows.  If you prefer, you can simply sit back and relax in the sled, letting the guides show you the scenery.  If you're feeling a bit more adventurous, you can help fasten the dogs to the sleds and mush your own way down the trail.
Needless to say, we chose the latter.  It's exhilarating to be holding back your sled as each team prepares to take off down the track.  The dogs are extremely excited – jumping and barking in anticipation.  Once they are given the go ahead, they are immediately silent and focused on one thing and one thing only… running.
3.  Strap on a Pair of Snowshoes or Cross Country Skis
There are countless trails located just outside the borders of West Yellowstone waiting to help you become one with nature.  The quiet stillness is hard to beat when looking to get away from your own reality – plus, it's a great workout.  Renting a pair of snowshoes from Freeheel and Wheel will set you back twenty bucks for a 24-hour period.  They have handy maps of a trail system starting just a block or two from their door step to get you on your way fast.
4.  Get Motorized – Go Snowmobiling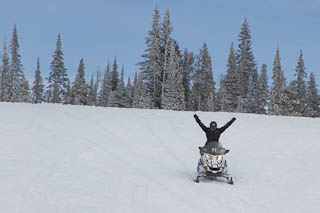 Need I say more?  If you've never done it, you should head to the nearest snowy mountain and rent one of these babies.  Even though I couldn't bring myself to go over 40 mph on the groomed trails outside West Yellowstone, I was never able to get the giant grin off my face.  The off trail, powdery hills are a giant bonus and if you get a clear day, the view from Two Top Mountain is spectacular.  You literally get a 360 degree vantage point on the surrounding area and can see the Grand Teton mountains 100 miles away.  An added perk is the burger joint in the woods accessible only by snowmobile – best burger I've had in ages.
There are numerous places to rent snowmobiles in West Yellowstone.  We rented ours from Rendezvous Snow Mobile Rentals for about $134 for a two-seater, four stroke model. Be sure to ask if your hotel qualifies you for a rental discount.
5.  When Visiting a Volcano, Sit In Some Hot Water
A soak in a natural hot spring is the perfect way to end any day no matter where you are. Taking a soak in Norris Hot Springs in Norris, Montana is no exception.  This place is a true local's hang out, which adds to the fun vibe.  If you make it on a Friday, Saturday or Sunday night, you'll even get some live music to enjoy as you ease away the day's tired muscles.  A pool structure has been built to house the natural hot water which fills and drains daily, keeping everything nice and sanitary.  Don't forget to order a spring-side pizza and beer.
Check out our Yellowstone gallery
here
.
You might also like...
Share and Enjoy