Tonight was a spicy reminder of one of the many reasons why we are inspired to take a RTW trip.  And by spicy, I mean hot.  Red hot…. chilis.  To be specific, Drunken Noodles a la Laura.
Experimenting with local food is one of the best parts of the trips we take and I'm not shy to say the food on our most recent trip to Thailand has thus far taken the cake curry. Hubby and I are huge fans of Thai food – have been for years.  To illustrate, before going on that trip, our 'dining out' budget was frequently blown by weekly to biweekly visits for a serving of our favorite dishes.  Our appetites for red and green curry, pad thai, tom kha and mango sticky rice know no bounds.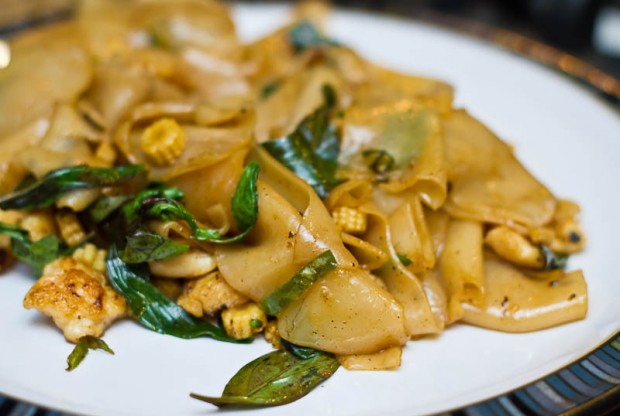 When in Thailand, we decided to man up and take a cooking class so as to bring all those flavors back home and into our own kitchen – and maybe save a buck or two.  For one thing, it was a killer way to spend an afternoon in Thailand.  We got to cook seven different dishes (each) and eat/share every last one of them.  Needless to say we left full and super happy.  Should you ever visit Chiang Mai, do yourself a favor and visit the Basil Cookery School.  Secondly, in addition to the mad skills we collected during our hands on experience, we got to bring home a bonus cookbook to refresh our less vivid 'how to' memories.
I am very happy to report that, yes, I can follow directions!  I produced, in my very own wok, restaurant worthy drunken noodles.  For better or worse, my noodles were about a 7 or 8 on the spicy scale (out of 10).  Fine for some, but perhaps a bit hot for my typical 2-3.  We'll probably pay for that rookie mistake tomorrow morning, but… it was totally worth it.
You might also like...
Share and Enjoy